Another quick PCB manufacturer review. This time it was an audioohmmeter sent to Elecrow PCB service. Price was $9.90 + $3.72 shipment. I ordered 5 pieces, got 10. Nice! Overall quality looks very good. Lets see it in details.
Elecrow is in China so a comparison with ITEAD Studio is in place. They do the same thing – they add some mysterious serial number to the silk screen:

I don't care since I use these services only for prototyping. Important thing for prototyping is the delivery speed. Ordered on 1.3.2014, sent on 7.3.2014 and delivered on 21.3.2014 to Czech Republic. It could be faster, but it's not bad. Pictures tell more then a thousand words.
Surface finish looks like HASL.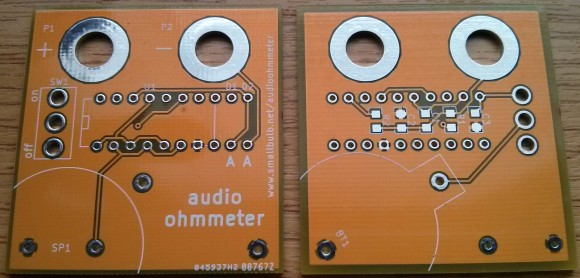 Silkscreen quality is fairly good, a little bit off:
Layers deposition and drilling (via 0.4 mm drill, 0.86 mm diameter):
I can find few defects. There are quite many places where you can see remains of a dust – gaps in silkscreen, detached solder mask after reflow soldering:
I'm satisfied anyway.